COVID-19 UPDATE
10/12/2020
We have been made aware that some of the local school districts have been closed due to having COVID-19 positive cases in their districts. If your child attends one of the districts who have closed their buildings, please consider keeping your child at home while the school building is closed. Please use your best judgment in deciding to keep them home or bring them to the gym.
If Greater Latrobe School District closes, then Willow Tree will also be closed. If this happens, we will communicate the best we can via email, Facebook and our web page.
Please continue to follow the guidelines as per the PA Department of Health and the CDC.
SIGN UP FOR FALL CLASSES
Register now for Fall classes by emailing the gym at willowtreegymnastics@gmail.com.  We are offering a full range of Preschool and Recreational classes.  Class size is limited and will be closed when full.
We will continue to follow PA Department of Health, CDC and USAG (the national gymnastics governing body) guidelines to do our best to provide a safe environment by limiting class size, practicing social distancing, and regularly cleaning and disinfecting.
The new schedule for Fall 2020 is now posted, as well as updated guidelines and a new registration form required of ALL registrants. (The office will let you know if your family is due to pay the yearly registration fee, and/or apply a credit from March.) Class size will be limited, so please email the gym at willowtreegymnastics@gmail.com to sign up. You will need to sign an updated registration form and sign the "Information and Expectations" form the day of the first class.
THANK YOU FOR YOUR PATIENCE AND COOPERATION.
Success at Every Level!
Twenty-five members of the competitive team recently competed at the State Championship meet.  Three of the girls placed first in their age group in the State and many of the others placed in individual events and All Around as well.  It is a great accomplishment to qualify for the state meet and these girls have worked hard all season.  We are extremely proud of each and every member of our team members!
Also a big shout out to our Silver Team who placed 4th in States!!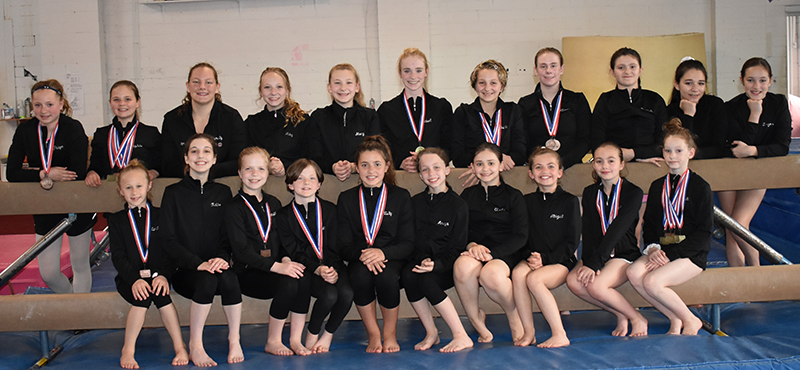 BACK ROW  (left to right): Paige, Sophia, Emmaly,  Abigail,  Macy, Rachel, Madison, Alison, Hannah, Jadyn, Brynn FRONT ROW (left to right): Emily, Katie, Molly M., Molly R., Lily, Anaya, Giada, Gabriella, Genavieve, Charli NOT PICTURED: Gabby T., Samera, Megan H, Kyla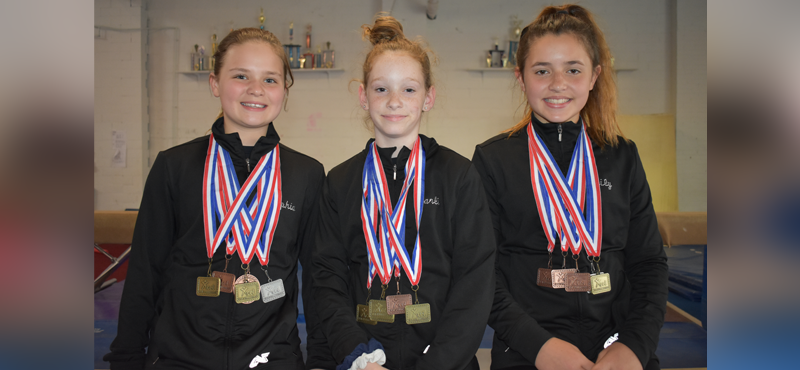 Three 1st Places
Sophia (on the left)  1st place All Around in Platinum Junior A
Charli (middle)  1st place All Around Silver Senior C
Lily (right) 1st place All Around Silver Senior B
CLASSES AVAILABLE
Beginner Gymnastics, Intermediate Gymnastics
Tumbling, Advance Tumbling
Adult Gymnastics
Astrokids, Stunt Double / Parkour
Parent & Me, Toddler Classes
Registration Information
Here's what you need to know:
Fill out the registration form and pick your class!
Once we receive your completed registration (one per child please) and registration fee of $30.00 per family (annual), we'll make sure we have a space for you!
Please keep in mind that the registration fee is non-refundable.
Please contact us with any questions and we will get back to you promptly. We look forward to hearing from you.
Classes Available
Beginner Gymnastics
Intermediate Gymnastics
Tumbling
Cheer/Dance Tumbling
Advance Tumbling
Adult Gymnastics
Astrokids
Stunt Double / Parkour
Parent & Me
Toddler Classes