ATTENTION: IMPORTANT INFORMATION
With the gradual reopening of the state, we at Willow Tree Gymnastics are preparing for the future reopening. We hope to get back to "normal" as best and safely as possible while reducing risks and transmission of COVID-19. We have taken this time to clean and sanitize the entire building and are taking the appropriate steps to move towards safe steps for re-opening the gym when the time is right.
As new guidelines and regulations become available from the national, state, local and the governing body of gymnastics, USAG, we will develop a plan to resume instruction with new schedules and policies. We are fortunate to have a facility with three separate gyms allowing us to run small classes and adhere to state and local laws.
When reopening is considered to be legal AND safe, we will communicate the new policies and practice schedules on this website and our Facebook page.
Please be patient, and know Willow Tree Gymnastics will reopen as soon as possible. We miss the girls. We miss the gym. We miss gymnastics.
With sincerest regards,
Willow Tree Gymnastics Academy
Success at Every Level!
Twenty-five members of the competitive team recently competed at the State Championship meet.  Three of the girls placed first in their age group in the State and many of the others placed in individual events and All Around as well.  It is a great accomplishment to qualify for the state meet and these girls have worked hard all season.  We are extremely proud of each and every member of our team members!
Also a big shout out to our Silver Team who placed 4th in States!!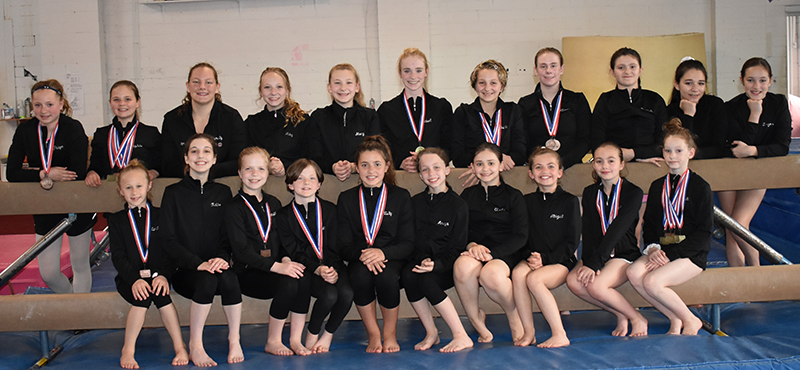 BACK ROW  (left to right): Paige, Sophia, Emmaly,  Abigail,  Macy, Rachel, Madison, Alison, Hannah, Jadyn, Brynn FRONT ROW (left to right): Emily, Katie, Molly M., Molly R., Lily, Anaya, Giada, Gabriella, Genavieve, Charli NOT PICTURED: Gabby T., Samera, Megan H, Kyla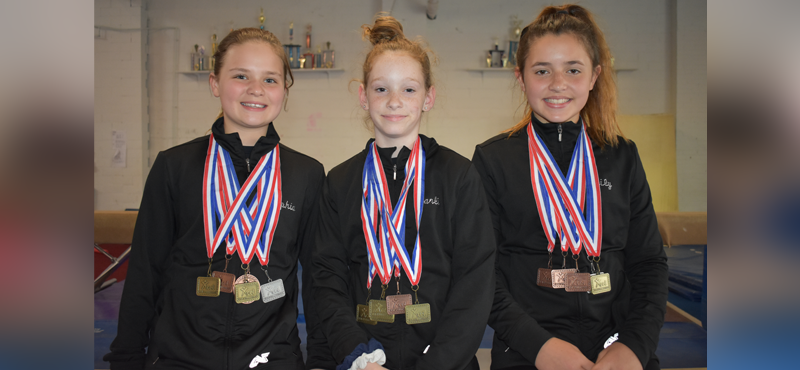 Three 1st Places
Sophia (on the left)  1st place All Around in Platinum Junior A
Charli (middle)  1st place All Around Silver Senior C
Lily (right) 1st place All Around Silver Senior B
4th Annual Welcome to the Playground Invitational
January 31 - February 2, 2020
CLASSES AVAILABLE
Beginner Gymnastics, Intermediate Gymnastics
Tumbling, Cheer/Dance Tumbling, Advance Tumbling
Adult Gymnastics
Astrokids, Stunt Double / Parkour
Parent & Me, Toddler Classes
Registration Information
Here's what you need to know:
Fill out the registration form and pick your class!
Once we receive your completed registration (one per child please) and registration fee of $30.00 per family (annual), we'll make sure we have a space for you!
Please keep in mind that the registration fee is non-refundable.
Please contact us with any questions and we will get back to you promptly. We look forward to hearing from you.
Classes Available
Beginner Gymnastics
Intermediate Gymnastics
Tumbling
Cheer/Dance Tumbling
Advance Tumbling
Adult Gymnastics
Astrokids
Stunt Double / Parkour
Parent & Me
Toddler Classes