2023 - 2024 RECREATION CLASSES
Sept 5th - May 23rd
We Will be CLOSED the following dates:
October 31st, November 23rd- 26th,
December 22- January 1st ,
March 29th- April 1st and May 24th- June 2nd
CLASSES AVAILABLE
Beginner Gymnastics, Intermediate Gymnastics
Tumbling, Advance Tumbling
Adult Gymnastics
Astrokids, Stunt Double / Parkour
Parent & Me, Toddler Classes
Willow Tree Gymnastics Team
Earns Medals at State Level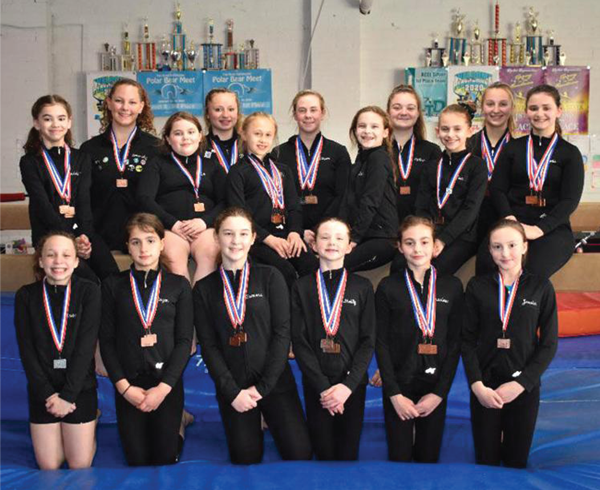 Twenty members of the Willow Tree Gymnastics competitive team who recently competed and earned medals at the state level this year are Anaya Drown, Megan Hess, Samera Johnson, Molly Ray, Gena Hoyle, Jessica Coberly, (back row) Maddy Morgan, Emmaly Held (senior), Lily Slezak, Paige Cole, Emily Ferguson, Ali Cowan (senior), Juliet Bompiani, Amber Taylor, Nina Rich, Madison Jesky, Giana Angelicchio, (not pictured) Abby Cook, Rachel Limani and Sophie Carns. A team spokeswoman said, "In order to attend the state meet the gymnast needs to earn a qualifying score during the meet season. The state meets were canceled last year, so the girls were very excited to attend the state competition this year."
Registration Information
Here's what you need to know:
Fill out the registration form and pick your class!
Once we receive your completed registration (one per child please) and registration fee of $30.00 per family (annual), we'll make sure we have a space for you!
Please keep in mind that the registration fee is non-refundable.
Please contact us with any questions and we will get back to you promptly. We look forward to hearing from you.
Classes Available
Beginner Gymnastics
Intermediate Gymnastics
Tumbling
Cheer/Dance Tumbling
Advance Tumbling
Adult Gymnastics
Astrokids
Stunt Double / Parkour
Parent & Me
Toddler Classes
6th Annual
Welcome to the
Playground Invitational

February 2022