Gymnastics Camp 2019
July 22-July 26
What is Gymnastics Camp?
Gymnastics Camp is an opportunity for gymnasts to learn and grow in their sport with new training experiences. Our main purpose and focus is to develop a well-rounded gymnast by drilling and encouraging fundamentals and incorporating new skills. Our Camp will offer trained, experienced coaching staff to help your gymnast excel in the sport of gymnastics.
Facility & Equipment
Complete Olympic competitive training equipment
Vaulting table & numerous spring boards
Uneven bars & training bars
High & low balance beams
42'x42' Olympic spring tumbling floor
Tumble Trak
Training pits/Resi in-ground
Mirrored wall
Numerous mats & training shapes
Much more gymnastic training equipment and aids
Success at Every Level!
Twenty-five members of the competitive team recently competed at the State Championship meet.  Three of the girls placed first in their age group in the State and many of the others placed in individual events and All Around as well.  It is a great accomplishment to qualify for the state meet and these girls have worked hard all season.  We are extremely proud of each and every member of our team members!
Also a big shout out to our Silver Team who placed 4th in States!!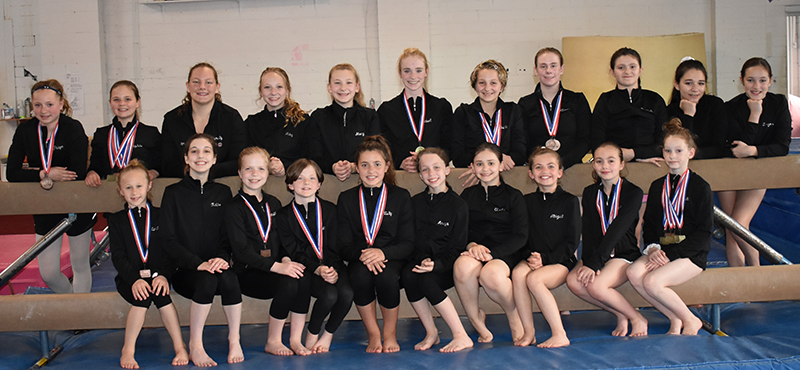 BACK ROW  (left to right): Paige, Sophia, Emmaly,  Abigail,  Macy, Rachel, Madison, Alison, Hannah, Jadyn, Brynn FRONT ROW (left to right): Emily, Katie, Molly M., Molly R., Lily, Anaya, Giada, Gabriella, Genavieve, Charli NOT PICTURED: Gabby T., Samera, Megan H, Kyla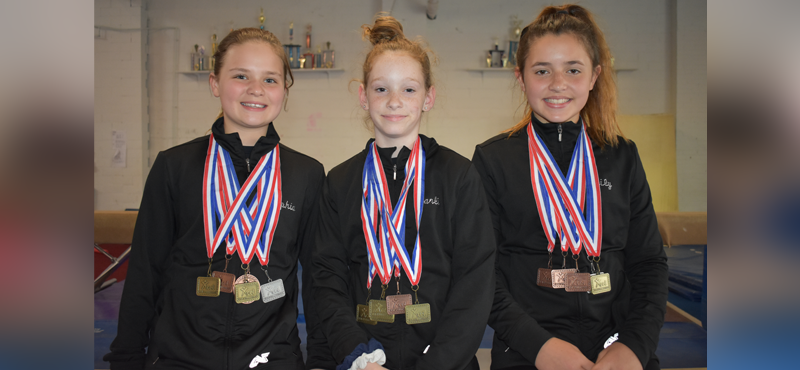 Three 1st Places
Sophia (on the left)  1st place All Around in Platinum Junior A
Charli (middle)  1st place All Around Silver Senior C
Lily (right) 1st place All Around Silver Senior B
CLASSES AVAILABLE
Beginner Gymnastics, Intermediate Gymnastics
Tumbling, Cheer/Dance Tumbling, Advance Tumbling
Adult Gymnastics
Astrokids, Stunt Double / Parkour
Parent & Me, Toddler Classes
Registration Information
Here's what you need to know:
Fill out the registration form and pick your class!
Once we receive your completed registration (one per child please) and registration fee of $30.00 per family (annual), we'll make sure we have a space for you!
Please keep in mind that the registration fee is non-refundable.
Please contact us with any questions and we will get back to you promptly. We look forward to hearing from you.
Classes Available
Beginner Gymnastics
Intermediate Gymnastics
Tumbling
Cheer/Dance Tumbling
Advance Tumbling
Adult Gymnastics
Astrokids
Stunt Double / Parkour
Parent & Me
Toddler Classes